The weather this week has been so glorious and spring-like you just have to go outside. It was a pleasure to drive downtown with the window down. Bob, was not as enthusiastic and kept muttering about being cold.
After running errands, which included replacing the broken globe for the bathroom like so its pretty again, we headed down the the
Crocker Art Museum
to see the "
Art of Warner Brothers
" exhibit before it closes on the 18th.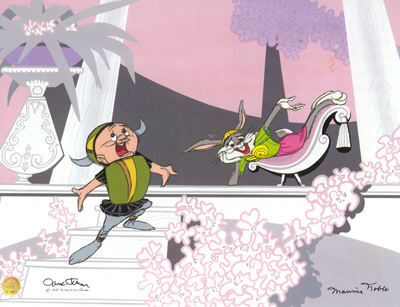 It was such fun to peruse the sketches and animation cells and recall the different cartoons. They even had cartoons running downstairs. I stood to watch until the bitchy security guard told me to "quit leaning on the wall". I guess I look like s shifty sort because she kept her eye on me. I almost wish I had been wearing my "
I learned to knit in Prison
" t-shirt!
As for knitting, I seem to be on a sock kick. I finished the pair from Christmas for Kirsten at bowling and started 2 pair for myself and have yarn for another raring to go. When I finish something I will post pictures.